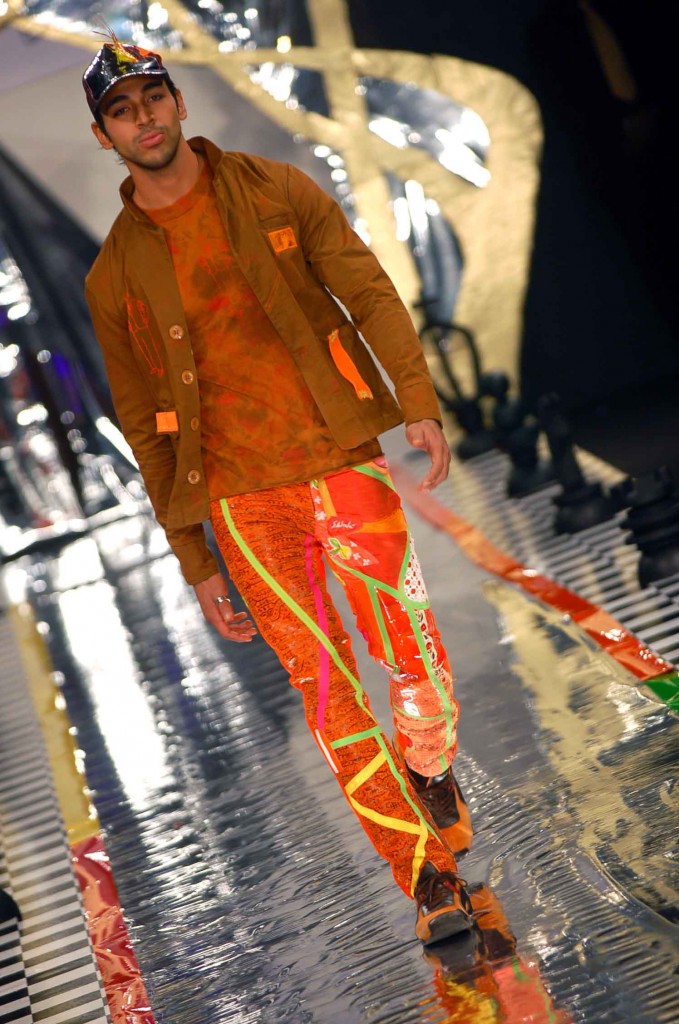 Sergio Alcalá is one of the most recognized fashion designers in México, and at only 23 years old, he is also considered one of the most innovative. Elle Magazine calls him the Jean Paul Gaultier of México, saying that his focused style makes him one to watch. His show at Fashion Week México Autumn / Winter 2007, with its lively mix of colors and textures was the talk of the event.
Alcalá's self-described "Mexican Kitsch" designs for his fullpatch collection use the colors of México, and are based on modes of transportation used by people living in México City. This idea of traveling through the capital is represented by orange for the Metro, green for the taxis, yellow for the stop lights and pink for traveling on foot.
Alcalá explains, "Mexico City is a surreal capital. You see things here daily that just don't happen anywhere else in the world – and it is always colorful. When I went to Germany everything was gray. Then I came back home to D.F. and kitsch and color were everywhere, beginning with the taxi that I took back from the airport with its Virgin Mary altar on the dashboard."
His work is inspired by his background in photography, digital art, film and live performance. "When people think of Mexican fashion, they think we are all still sitting around making huaraches. I want to take Mexican fashion to a new level." Sergio Alcalá is the youngest designer ever to show at Fashion Week in Germany, debuting last year at age 22. He was received very well by the fashion industry in Europe. "Sometimes when you are in your own house (México), you don't get any recognition. You need to leave and go to Europe or Japan and then everyone wants you." Sergio Alcalá's products include baseball hats, purses, dresses, skirts, corsets, shirts and blouses, key chains and bracelets. The clothing is colorful and uses different types of cloth to achieve his unique look. Some skirts and pants have over 200 pieces of cloth sewn together, all done by hand. Alcalá has two labels for his fashions. "Sergio Alcalá" is the upscale, one-of-a-kind fashion label, available through boutiques or commissioned pieces. He is also developing "Yet-Serch" by Sergio Alcalá, which will offer lower priced fashions in a more commercial format.
Sergio Alcalá's urban-conceptual style has made him a designer to watch. His unusual designs comprised of different materials represents the mixtures in Mexican identity. His take on urban kitsch has already made him an icon of Mexican fashion. By the time you read this, he will have shown his latest collection at Fashion Week Mexico Spring Summer in late October. Stay tuned!
You can purchase Sergio Alcalá at Dime, a boutique in México City: Álvaro Obregón 185 B, Colonia Roma. Tel. dialing from Ixtapa-Zihuatanejo 01-55-2454-6790, dialing from the U.S.: 011-52-55-2454-6790. His web site is www.sergioelbailador.com
-November 2008