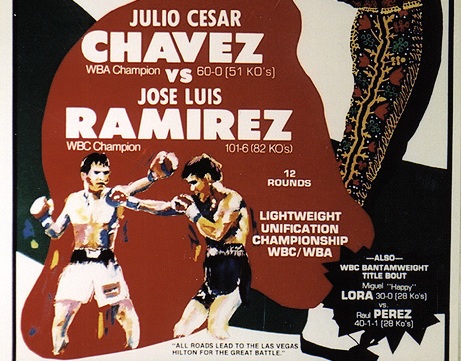 If you mention the words "J.C. Superstar" to an American, the chances are they will think you are talking about a Broadway play. Utter those five syllables south of the Rio Grande, and get ready for an onslaught of words about Mexico's most beloved practitioner of the sweet science.
Julio Cesar Chavez is emblematic not only of Mexican boxing, but of Mexico itself. Always willing to absorb punishment in order to dish it out, always moving forward, and always throwing endless left hooks to the body, the ex-champion has come to represent the Mexican boxing ideal much the way Hemingway was known as the prototypical American writer.
Chavez cut his teeth in the hardscrabble town of Culiacan, Sinaloa. Whereas American boxers often have more than the 100 amateur bouts to hone their craft, Mexican fighters are typically thrown to the wolves with little experience or seasoning. Chavez was no different. After an amateur career that was reportedly a mere fifteen fights, the Lion of Culiacan debuted as a professional in his hometown on February 2, 1980, at the tender young age of 17. He won by knockout. By the time the year was out, he was a developing prospect with a 10-0 record.
Early in his career, he often fought as a bantamweight, with a maximum weight of 118 pounds. As his body developed, Chavez hit his stride fighting as a junior lightweight and lightweight (130 and 135 pounds, respectively). Cruising through the early stages of his career, he developed a reputation for a fan-friendly style, heavy hands, and a granite chin.
Chavez did have one scare, which is illustrative of the political gamesmanship that is omnipresent in boxing. Although officially undefeated until 1994, Chavez "lost" his first fight 13 years earlier, via disqualification to a rather weak opponent named Miguel Ruiz. However, the next day, the local boxing commission, which conveniently enjoyed the services of Chavez's manager as a member, changed the official verdict to a first-round knockout victory for the initial loser, and Chavez fought on with an unblemished record.
The Sinaloan fought 12 times in 1981 and 13 more in 1982, a blistering pace for a professional fighter. With a record of 35-0 going at the start of 1983, Chavez was beginning to make a name for himself. Even so, he was still untested, with most of his opponents an assortment of has-beens or never-weres. It was not until September 13, 1984 that Chavez, at that point 44-0, received a shot at the 130-pound belt, which he then wrapped around his waist after an 8th-round knockout of Mario Martinez.
Although he was the World Boxing Commission's champ, Chavez was still nowhere near being the legend he is today. He had a gaudy record and an entertaining style, but he didn't have any American names on that long list of losers, and he'd had limited exposure outside of Northwest Mexico.
In his second title defense, that all changed. Squaring off against Roger Mayweather, a showy puncher from one of boxing's most famous families, Chavez showed off the qualities that endeared him to a generation of fight fans. Fighting for the first time in Las Vegas, the Mecca of boxing, Chavez did as he always had: he planted himself right in front of his opponent, eager to eat punches in order to throw fire of his own. Liking what he saw, Mayweather landed a series of monstrous right hands in the first hand, punches that knock out all but the hardest of men. Not only was Chavez not put down, he was seemingly energized, treating the blows as one would an unexpectedly stiff breeze. Relentless as a piston in a revving engine, Chavez went right after the future champ. Mayweather, with nothing more in his bag of tricks, was knocked down twice en route to a brutal 2nd-round knockout loss. The legend was born.
Culiacan's favorite son had the good fortune of coming into his prime at a time when the golden era of lower weight boxers, that of Sugar Ray Leonard, Thomas Hearns, and Roberto Duran, was fading. Chavez moved up from 130 pounds to pick up the lightweight belt (135 pounds) in 1987. Two years later he scooped up the junior welterweight title (140 pounds), once again beating Roger Mayweather to do so, making himself a household name and the first three-division champ in Mexican history. As the 1990s dawned, after Mike Tyson, there was no young fighter as adored as Chavez, by Mexican and American fight fans alike. More than once, he paraded around the streets of his nation's capital city, and won himself a loyal fan in President Carlos Salinas de Gotari.
Like Tyson, Chavez was promoted by the flamboyant Don King, with whom his relationship eventually turned sour. In 1990, however, they were still on good terms, and King set his Mexican fighter up with the toughest challenge of his career: Olympic gold medalist Meldrick Taylor.
Chavez, now with an astonishing record of 69-0, had never faced a fighter like Taylor. Schooled in the iron-tough gyms of Philadelphia, Taylor was naturally bigger, faster, and with a wider array of punches. He was, just like Chavez, coming into the ring an undefeated champion, having beaten Buddy McGirt for the International Boxing Federation junior welterweight belt in 1988.
In the early stages of the fight, it seemed that all of Taylor's advantages would be too much for Chavez. For the first several rounds, Taylor laid a hellacious whupping on his smaller opponent, beating him to the punch as well as dancing circles around him. Despite the damage, Chavez was unbowed. Displaying the greatest virtues of the Mexican boxing ideal, Chavez repeatedly took three punches from Taylor in order to land one of his own. He continued throwing left hooks to the body in order to slow down his supercharged adversary. As the fight went down the stretch, Taylor began to show signs of fatigue. His punches lost some of their snap, and Chavez began to land more regularly to his head. Going into the final round, Chavez was still behind on the score cards, but was physically in better shape. Taylor, incorrectly thinking he had to win the twelfth round to win the fight, traded punches with the fresher Mexican. With 16 seconds left in the fight, Taylor was dropped by a Chavez right hand. Although he beat the count, Taylor was unresponsive when questioned by Referee Richard Steele, who then stopped the bout with a mere two seconds left.
This controversial win, which some claimed was ensured by Steele's allegedly close ties to Don King, was the acme of the Chavez arc. Like his King stablemate Mike Tyson, Chavez began to lose focus on boxing, and stories of drinking bouts the night before a fight began to emerge. Chavez's biggest challenges from then on out were decreasingly successful.
He moved up in weight to challenge welterweight champ Pernell Whitaker in 1993. Although most observers agree that Whitaker, the greatest defensive fighter of his era, trounced Chavez, the Mexican somehow escaped with a draw (many attributed it to King's influence) and maintained his undefeated record. But that too was to come to an end three fights later, with an unexpected decision loss to Frankie Randall.
Although he never topped his physical peak of the victory over Taylor, Chavez's fame continued to grow through a series of attention-grabbing maneuvers, both in and out of the ring. He fought before the largest crowd in the history of the sport, some 136,000 people, in Mexico City's Estadio Azteca, destroying American Greg Haugen in five rounds. (Haugen had earned Chavez's ire by dismissing the possibility that there were 130,000 Mexicans who could afford the pricey tickets.) Chavez enjoyed the attention of a new segment of fans when writer Cal Fussman fought one round with him as the basis of an article for Esquire magazine. Chavez also enjoyed a romance with Mexican actress Salma Hayek.
Like all great fighters, Chavez had to cede the championship stage to a younger generation of fighters. He was stopped twice by Oscar de la Hoya in the late 1990a and embarrassed in a 2000 knockout loss to Kostya Tszyu. Although the man kept fighting until 2005, Julio Cesar Chavez the champion was a thing of the past.
But for diehard fans, there is a new reason for enthusiasm. Julio Cesar Chavez Jr., a leaner and lankier man than his father, is now a budding prospect and a fixture on Las Vegas undercards. He is an undefeated welterweight, with a record of 27-0-1 as I write this. The future is bright, but he's got a long way to go before he catches dad. He is, after all, chasing a legend.
-Originally published in ADIP November 2006