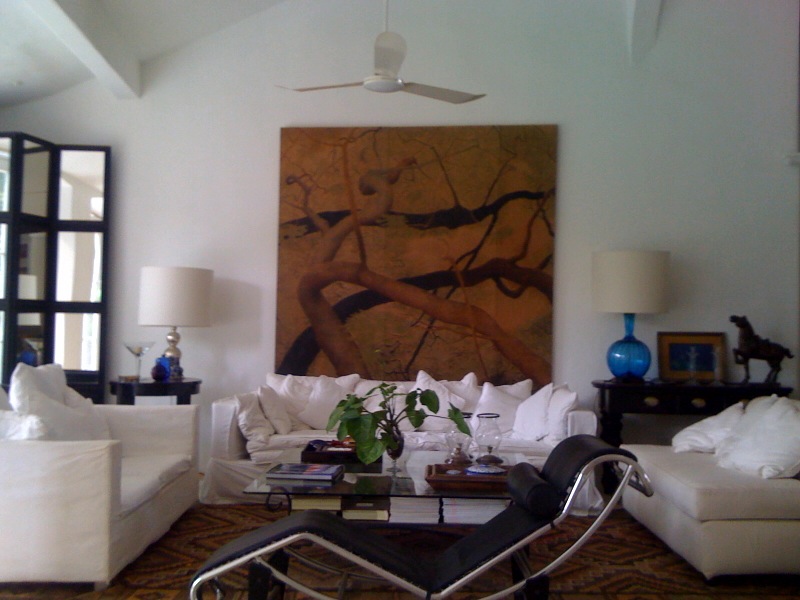 Renovation and Interior Design: Maru Pinto de Caraza
Searching for your dream home and still haven't found what you're looking for? One couple who were not ready to take on the task of building a home decided to make-do with what they had found, and make it their own. Renovating a dark, uninviting space into a light and warm family home in Ixtapa.
The first time the couple saw the house, they didn't like it at all. The house had been sitting on the market for awhile and when they saw it, they could understand why. It was hard to see past its most obvious feature: that when you walked in, you felt as if you were entering into an enormous wine cellar, dark and cavernous. They didn't like the shape or the size of the windows; it had few windows and they were very small. It was one large open space with no separation between the dining and living areas, just one big cave-like room, and the main feature of the living room was cement built-in furniture. They liked the high ceilings, the layout, and the amount of space, but that's about it. They kept looking.
Two weeks later, after little success, they came back and looked at the house again, and began imagining what could be done with the different spaces. "When we first started looking we didn't have really specific ideas about what we wanted in a house. We just knew we wanted something big, with three bedrooms, and room to put a TV room separate from the living room," said the home owner, "This house had that and we thought it would be easier and quicker to remodel, and that it would save money."
So taking a deep breath, they bought the house they didn't like, and embarked upon an ambitious renovation project to turn it into the home of their dreams.
First on the list, they changed out all the windows. They installed new, much bigger windows in the kitchen, and modified the existing ones by enlarging them and lowering them to seated-eye-level, creating a sunny breakfast nook where before there was a dark corner with no view. They added three large windows to the main room and more in the stairwell, enlarging them and letting in more light. "I believe that was the biggest change," says the home owner, "It was the new windows that changed the shape of the entire house and gave it a completely different architectural style." To open the space up more, they created a new entrance way and expanded the main room by taking out a small vestibule that served no purpose, which enlarged the length of the living room by a meter. They then took out the cement built-in seating to give room for their own more traditional furniture and to give more flexibility to the space. To make the large space less overwhelming, they separated the dining room from the living room with a partial wall and then blocked off the stairwell and interior hallway from view with a built-in bookcase, to give privacy to the area of the bedrooms and to separate the two spaces.
The entire process took about a year-and-a-half, but was completed in stages, when they had extra money or time, and stopped when they didn't. By taking it slow they were able to enjoy the design process and seeing the results, which were often much better than anticipated. It made them realize it was really possible to make big changes, even to a space that had seemed so uninviting at first glance. "We like everything about it now," they say, "The house is very comfortable and very pleasant. It makes you want to relax and sit and listen to good music, its hard to want to leave. It's a home, exactly like we would have wanted." They still have a few more plans for the property—to finish landscaping the garden and maybe put in a pool—but they realize, a house, like a home, is a lifetime project.
-Originally published in May/June 2007.