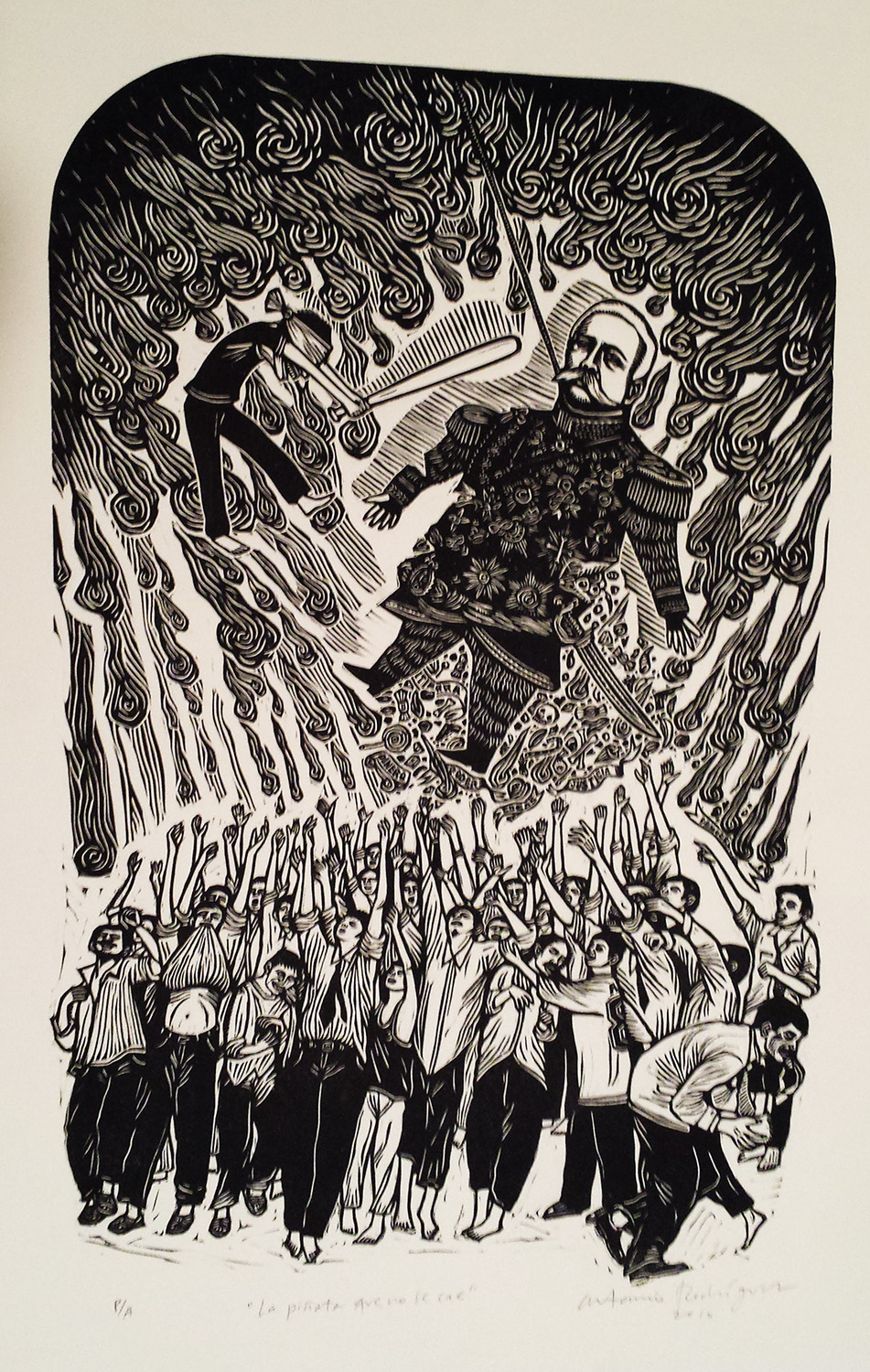 Artemio Rodriguez, (Mexican 1972–), La piñata que no se cae, 2010. Linocut 13×18.
Artist Profile: Artemio Rodriguez
Mexico has the longest and richest print tradition in the Americas.  From woodcuts to engravings to lithographs and linocuts, Mexico has enjoyed a long history of prominent print makers.  The first book published in the Western Hemisphere was a church document in Spanish and Nahuatl (the language of the Aztecs) printed in Mexico in the early 1500s.  Printmaking in Mexico started as woodcuts and engravings that were used to illustrate religious texts created by the Catholic Church to convert Mexico´s indigenous population to Catholicism.  Religious art was  a big part of art in New Spain for centuries.  Engraving was one of the "noble arts" taught in the Spanish academies in Mexico and students created art, religious and secular, that was very similar to what was being taught and created all across Spain at the time.  When lithography came to Mexico by way of Italian Claudio Linati in 1826, it took on a decidely Mexican flavor. Lithographs celebrating Mexican geography and culture, ancient and colonial architecture, volcanoes and native costumes, became popular and were distributed worldwide.  The masterpieces of the age were pictorial travelogues and lithographs supplanted engraving as the most important print medium in the 19th century.   After Spanish Independence print shops in Mexico City publishing broad sheets and periodicals played a pivotal role in creating a sense of nationalism in the new nation.  In the 20th century print artists began flexing their political muscles and much of  contemporary art celebrated Mexican identity, and a rising social consciousness  with an emphasis on political satire.  Some of the most famous images and iconography of Mexican art emerged from this time period, like Jose Guadalupe Posada's famous etching, Calavera of the female dandy.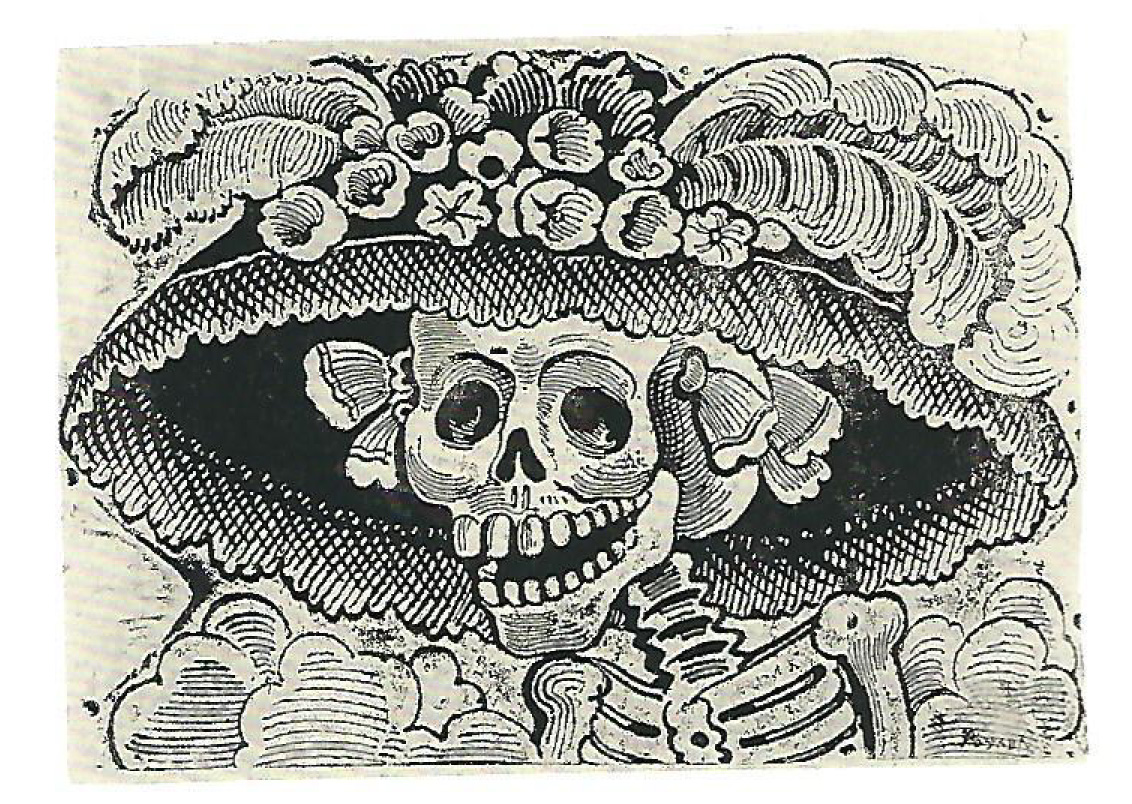 This and other images of richly adorned skeletons were highly critical of the vanity and opulence of the rich in stark contrast to the poverty of the masses.  These images and more would be used to rally support for the Mexican Revolution that came in 1910.  The Mexican Revolution was fought from 1910-1920 over land rights and desparity of wealth.  During the revolution dynamic woodcuts and linocuts were a call to arms that idealized peasants while criticizing the greed of the upper class.  After the Revolution print makers took up the battle cries of Europe, they warned of world war, they championed workers and vilified capitalism, imperialism, fascism and Nazis.  Art is a passionate business and with so much of the world in turmoil, the early 20th century from the 1920s to the 1950s, was one of the most exciting and dynamic times in the history of graphic arts, in Mexico as around the world.    This is when the great masters of Mexican art were so prolific: Diego Rivera, David Alfaro Siqueiros, Rufino Tamayo, Jose Clemente Orozco, Alfredo Zalce, Dr. Atl … They added print making to their arsenal as a way to inform their painting and as a way to distribute their images to a larger audience, never shying away from provocative images of injustice.  Prominent print makers of the time included: Leopoldo Mendez, Francisco Dosamantes, Isidro Ocampo, Jesús Escobedo, Gabriel Fernández Ledesma, Angel Bracho, Pablo O´Higgins, Ignacio Aguirre, Arturo Garcia Bustos, Fernando leal, Isabel Villaseñor, Maria Izquierdo.
Continuing in this great tradition in the 21st century is Los Angeles based, Michoacan born artist, Artemio Rodriquez.
Artemio Rodriguez, a noted Mexican print maker, was born in the tiny mountain village of Tacambaro, Michoacan, Mexico in 1972.   He attended university and learned letterpress printing from Juan Pasco, a master print maker who had a workshop in Michoacan. Rodriguez is  known for his edgy, intricately detailed linocut and woodcut prints.  He is a Creative Capital Foundation Grantee and a Kala Art Institute Fellow and has had solo shows across North America.  In the US, he is represented by Davidson Galleries in Seattle and his work hangs in museums, galleries and private collections across the US and Mexico.  He is also the editor and illustrator of numerous books including one about his most notable influence, Jose Guadalupe Posada: 150 Years, published by La Mano Press, the artist-run center he founded that is dedicated to the promotion and appreciation of printmaking.  His work traverses a wide swath from staid traditional print making styles to the delightfully modern and kitchy.
Our featured piece, La piñata que no se cae (The piñata that won't fall), is a 13 x 18 artist proof for a larger 6-foot piece that he completed in 2010.   It is a critique of Mexico's 35-year dictator General Porfirio Diaz, the main figure in the work, who ruled the country from 1876 to 1911.  I love the robust history of Mexican print making and I love the rich black of linocut prints.  This one I am especially excited about because it calls to mind many of my other favorite artists and art forms.  The swirls in the sky remind me of van Goghs' Starry Night and the line of figures in the foreground, remind me of Cultural Revolution Chinese propaganda posters. Mexican Art History is a vibrant story and  Artemio Rodriquez is an exciting artist worth watching.  I highly recommend adding him to your collection.