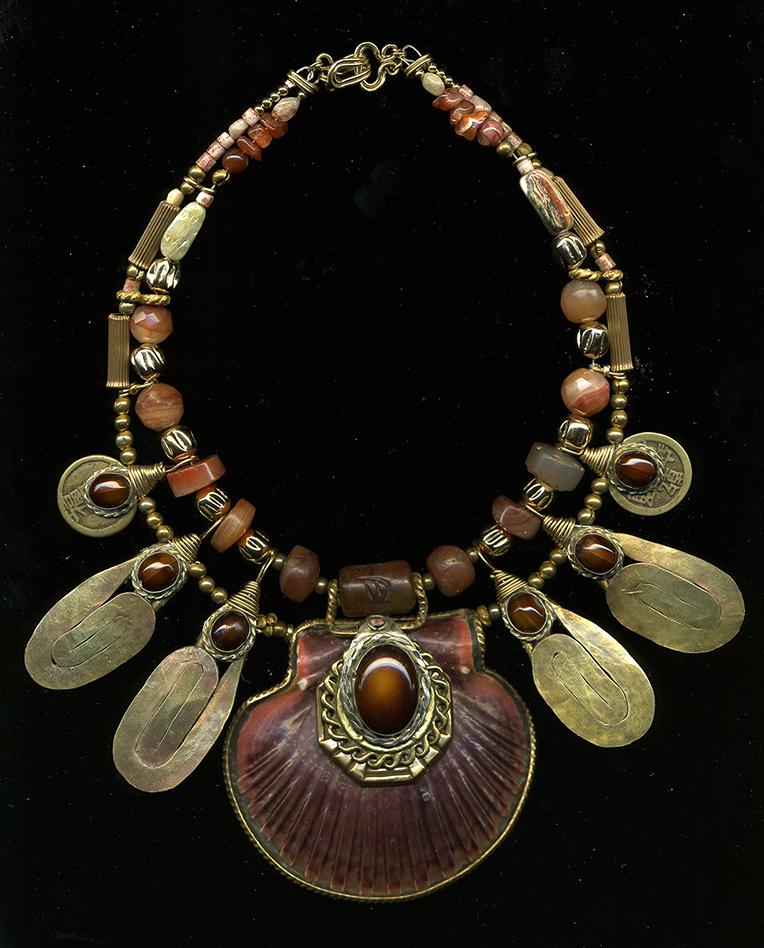 For those of us lucky enough to be on La Ropa beach at sunset on December 30, we were treated to models dressed like classic Hellenic statues. Each wore one spectacular neckpiece by New York jewellery artist, Arthur Koby. What better setting than sand, sea and last light of day to see this exquisite new collection. Clusters of gems woven with a distinct geometry reminded one of diadems. The runway show looking like a Greek tableau was organized by Rocio Madrazo of Galart at Hotel Villa del Sol.
Considering Koby's architectural background, the geometrics are not surprising. Trained at The Cooper Union, he began his career designing public buildings and winning awards. Adventuring around the world, he collected gold pieces, shells, old coins, exotic beads, seeds, buttons, antique metals. Then he applied his architectural skills to construct unique jewelery with these found objects, which he sold in the U.S. and Canada.
Inevitably, fame caught up to him. While working with a window dresser, he accessorized a Geoffrey Beene outfit with one of his own creations. Beene bought the necklace himself and asked to meet the artist. Thus began a ten-year working relationship with Koby designing jewellery for Beene's clothing. Media exposure including magazines such as Vogue and Harper's Bazaar followed. His work became a vital force in the bold look of the eighties. It is difficult not to namedrop for Koby's list of credits goes on. He's worked with the likes of Oscar de la Renta and Donna Karan. Many famous necks have worn his pieces; Barbara Walters, Gloria Vanderbilt, Catherine Zeta-Jones as well as a bevy of other actresses. It is no wonder. They make every wearer look beautiful.
Each collar in this collection is a meticulous construction–little suspension bridges sprouting clusters of sumptuous jewels. Elegant leaf-shaped green chrysophrase; baroque pearls; faceted amethysts, dusky lemon topazes, quartz of all kinds. In each piece, gems weave through a focal cable, snakelike creating impressions of designs we might see on ancient temples. By using organic shapes, he defies geometry; creates a fluid whole. Especially enchanting is a piece with turquoises, opaque and amorphous contrasting with brilliant blue topazes, the opposing blues, a stunning blend, a lesson in juxtaposition.
This particular collection of collars, although still baroque, is subdued compared to some of Koby's signature work. Ornate. Monumental. One intricate piece features a large shell pendant embellished with hand-hammered metal. The shell drops from a cable of antique metals, seeds, beads, new and old gold and green crystals. Whereas the other pieces can easily be seen on royalty, this one can be envisioned on an ancient Etruscan queen.
In a world besieged by high speed and mass production, it is refreshing to be exposed to artists whose works are crafted with such love and care, particularly in the case of Koby, who sometimes takes months to complete one piece…like a fine painting. This indeed is the art of jewellery.
---
For more information about Arthur Koby, visit his website: www.arthurkoby.com.
In Zihuatanejo, his pieces can be found at Galart, the cozy gallery tucked away in the Edenic maze of the Hotel Villa del Sol on Playa La Ropa, Open Monday – Saturday, 11am – 3pm, and 6pm-9pm, Tel. 755-554-7774; and at Galart's newest location at the Restaurant Villa de la Selva, in Ixtapa, Open daily 6pm-11pm, Tel. 755-553-315, galart@prodigy.net.mx, wwwgalart.net, for more information.