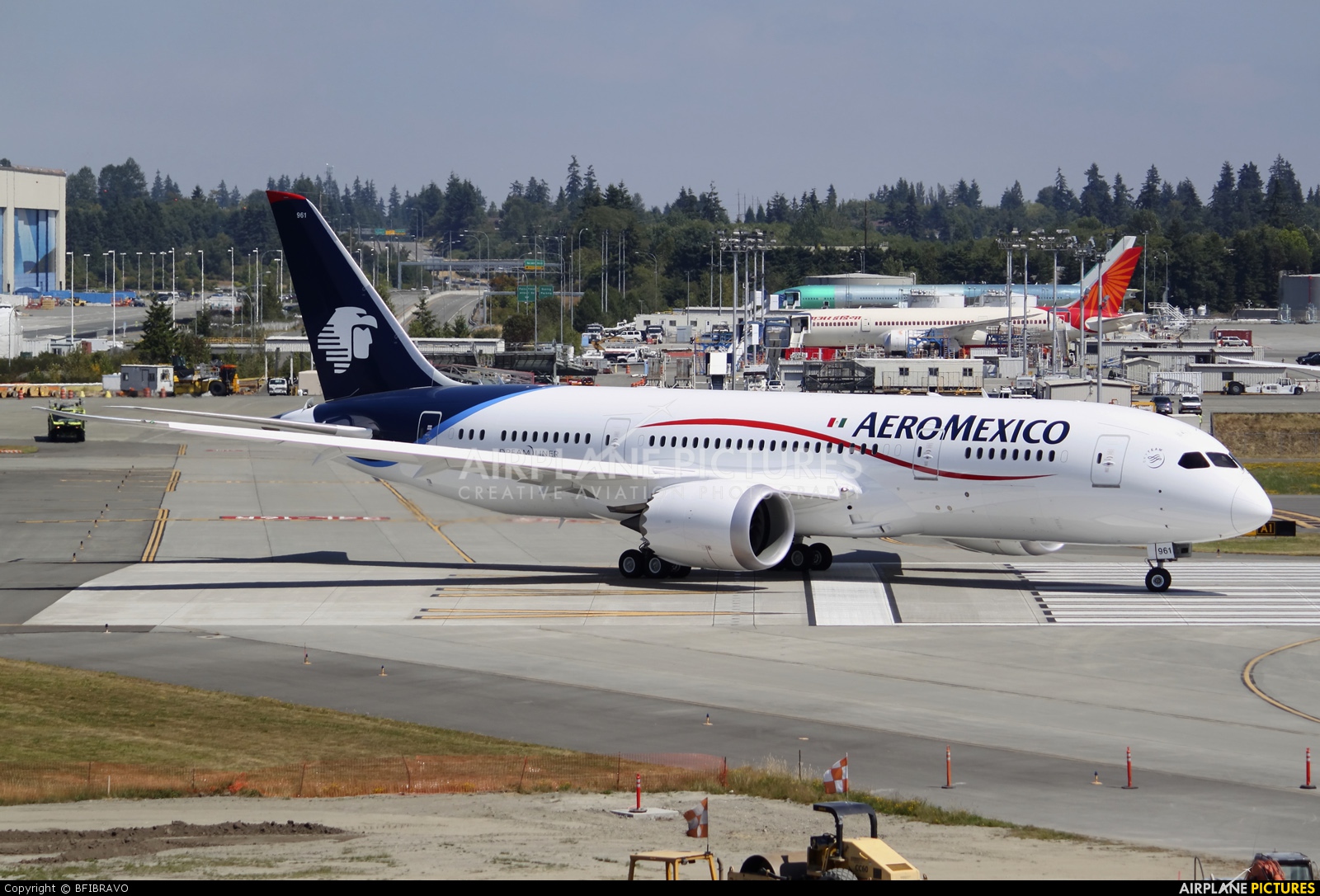 Photos courtesy of Boeing, Aeromexico and airplanephotos.net
This week Aeromexico took delivery of their 1st Boeing 787 Dreamliner, amid fanfare and celebration.
Boeing´s much anticipated, technologically advanced new 787 aircraft has been rolling out commercially since 2011 and despite a few glitches and literal bumps, it represents the most successful launch in commercial aviation history, with 890 orders from 58 customers  through the 1st half of 2013.   Most of the 787 safety issues were related to in flight lithium battery systems and a few early flights were grounded because of inflight fires.  Boeing has since upgraded the battery systems and Boeing CEO has stated that despite the heavy coverage of these issues, the 787 has not had any more technical issues to work out after launch than any other new aircraft.  Aeromexico´s 787 has undergone over 10,000 trial hours, including 5,000 hours of in flight testing before it was put into service.  The launch of the 787 Dreamliner and the past five plus years of the production and roll out has been a real triumph of public relations that shows people still get genuinely excited about technology.  From Boeing´s decision to select the name Dreamliner from a website poll and the creativity of the product launches on social media sites worldwide, the buzz has been tremendous.  The delivery of these planes worldwide has been big news for every airline that has taken possession of them.  This week, Aeromexico posted a live webcam on their Facebook page to count down the hours and witness the arrival of their new baby as it landed in Mexico City.  
So, what makes the 787 so special? For starters, its super fuel efficient and technologically advanced. Boeing had to re-think their entire manufacturing process to build it.  The 20% higher fuel efficiency comes because of its light weight.  It is the world's first major airliner to use composite materials as the primary material in the construction of its airframe.   Composites are high strength fibers embedded in resin (a half inch square could bear the weight of 15 cars).  Most aircraft use composites for parts or sections, but the Dreamliner is over 50% composite materials.  The carbon fibers are applied in complex geometric patterns by way of layering.  A graphite tape laying machine applies layer after layer of fiber onto an enormous spinning barrel.  The fibers intricately build up to create the fuselage or the hull, and then the entire section is put into an enormous oven and baked.  The composites fuse into a super hard, durable material that can withstand all of the pressure of air flight but still remain lighter than aluminum.   Boeing calls the creation of the Dreamliner game-changing innovation.
For passenger innovations, the 787 boasts a more spacious cabin, more storage, softer lighting, bigger windows, a smoother ride and healthier air.  What struck me most, were the windows.  The 787's cabin windows are larger in area than any other civil aircraft in-service or in development.  The composite fuselage permits larger windows without the need for structural reinforcement, and cooler yet, instead of window shades, the windows use "smartglass" that allow passengers to adjust five levels of sunlight and visibility.  The internal cabin pressure and air system are advanced as well, allowing for higher altitude comfort and higher humidity.  They also boast their air circulation system provides cleaner air. The air conditioning improves air quality by removing ozone from outside air, and in addition to the normal FDA required filters to remove airborne particles, they also use a gaseous filtration system to remove odors, irritants, and gaseous contaminants as well as particulates like viruses, bacteria and allergens, which should please a lot of people.   Rave reviews have been pouring in and the Dreamliner seems a big hit, with airlines and passengers alike giving it a 90% satisfaction rating.
Aeromexico´s 787 Dreamliner is rated to fly only within Mexico for the next few months, flying between Mexico City and Cancun, Monterrey and Tijuana.  But by the end of October international flights will begin between Mexico City and JFK.  To book a flight on Mexico´s newest high tech baby, visit www.aeromexico.com, or click here to see the Dreamliner´s itinerary for the rest of the year   http://www.aeromexico.com/us/about-us/aeromexico-corporate/press-room/information/aeromexico-informs/itinerary-boeing-787.html
To see who else flies the Dreamliner go to http://www.newairplane.com/787/whos_flying/