David Pullen in Puerto Vallarta, Martin Posch in Los Cabos, and Bob Findlay in Manzanillo, have sent brief reports on the latest in their markets.   From David Pullen of PV Realty, Puerto Vallarta: The Puerto Vallarta market has been through three difficult years and we are starting to see signs of improvement with increased...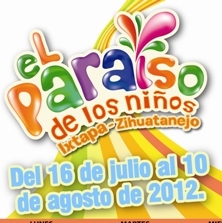 El Paraiso de los niños – Summer Children´s program in Ixtapa-Zihuatanejo starts on Monday: fairs, films, shows, circuses and children´s activities every day in July and August !
The Mexican electorate has voted to bring back the Institutional Revolutionary Party (PRI) after twelve years of government by PAN.   In elections held July 1, Enrique Peña Nieto, the PRI's candidate garnered 39.19% of the popular vote. Andrés Manuel Lopez Obrador of the PRD party was second with 32.40% of the vote, followed by...