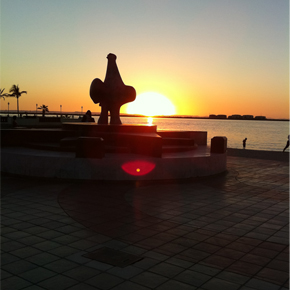 La Paz La Paz, the heavenly capital of the state of Baja California Sur, lies in northwest Mexico. It is one of the main cities of the southeastern Baja California Peninsula region and is located 220 km (136 mi) north of Los Cabos and 1464 km (907 mi) south of Tijuana. The average year-round temperature...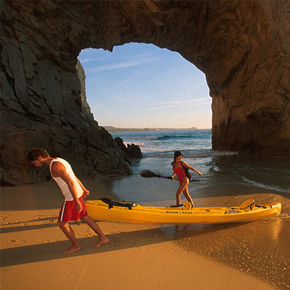 Los Cabos (The Capes) is one of Mexico's most beautiful and exclusive destinations. It lies on the southernmost tip of the Baja California Peninsula, 220 kilometers (136 miles) south of La Paz. The climate is warm throughout most of the year, with an average temperature of 26º C (79º F).   During the winter In...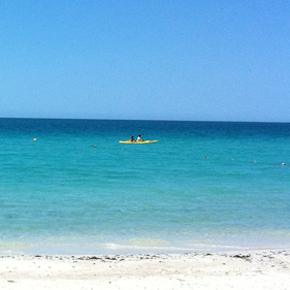 The heavenly Bahia de Loreto (Loreto Bay) is located in the northeastern region in the state of Baja California Sur, 350 km (217 mi) north of La Paz. The climate is hot, with an average temperature of 28º C (82º F).   Loreto is a pleasant destination with natural beautiful natural attractions, such as...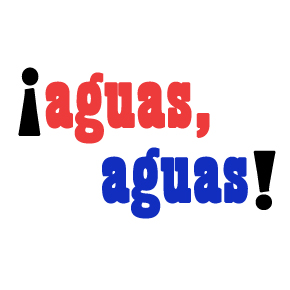 ¡Aguas, aguas!   An expression, literally, "Water, water!",  yelled to get someone's attention, meaning: "Heads Up!", "Watch Out!" Origen:  Yelled by chamber maids, during colonial times, to warn pedestrians below that they were about to empty the contents of a chamber pot (waters) onto the street from the balconies above.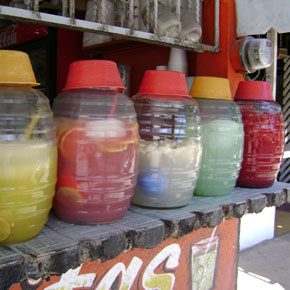 Mexican Style Soft Drinks
Beat the summer heat with these refreshing and healthy Mexican fruit drinks. Soft drinks are a main culprit in the rise of obesity and a major contributor to the plastic waste in our world, so we should be concerned about our intake of these drinks. Some soft drinks in Mexico contain real cane sugar instead...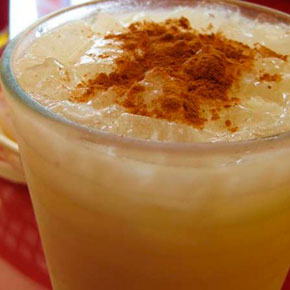 Mexican Rice Milk
Here are two delicious recipes for horchata. The first is a more traditional recipe, the second is a non-dairy version. Enjoy! Agua de horchata 1 cup raw rice 1 ½ cup hot water 1 whole piece of Mexican cinnamon about 4 inches long (or to taste) 2 tsp pure vanilla extract 3 cups skim milk...

Moves from Acapulco to Zihuatanejo
In a move that has been in the making since 2008, the German consulate for Guerrero has been relocated from Acapulco to Zihuatanejo.   The change took effect Monday, May 9, 2011. The consulate office is now located inside hotel La Quinta Troppo, on the road to Playa La Ropa in Zihuatanejo.  Long time Zihuatanejo resident and...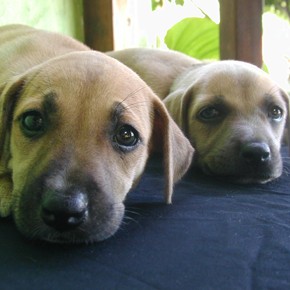 Another successful event for the hardworking society
  "The greatness of a nation and it's moral progress can be judged by the way its animals are treated" – Mahatma Gandhi   The Society for the Protection of Animals of Zihuatanejo "Helen Krebs Posse" A.C., has concluded it's May 16-20, 2011 Campaign of Free Animal Sterilizations with the following statistics: 95 Female dogs       ...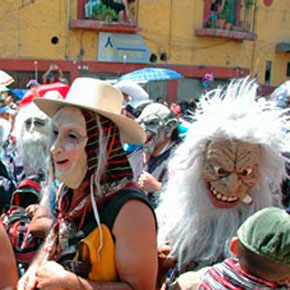 June 1- 4, 37th Festival de Jazz en la Escuela Superior de Música (Jazz Festival) del INBA , Coyoacan, D.F. Those with a love of jazz music should not miss the many concerts and talented jazz musicians performing at the National Art Center, completely free of charge! This festival will be dedicated to pay tribute...